Make Conscious Connections
When you spend your own time thoughtfully constructing the stories that are connected to your limiting beliefs, you get a head start on your therapy session. This will save you time and money because the therapist will be able to get straight to targeting your active limiters. The CBT based, Self-Help, Mobile Application which acts as a Psychometric Cognitive Diary.

See it in action
Let's get to the ROOT
---
Track your state of consciousness. Tag related beliefs and contexts. Accelerate progress.
Daily Tracking
Track mood & the contexts of general or specific thoughts, emotions or behaviours
Pinpoint Limiters
Request related limiters from the lmtls platform based on track content
Data Driven Analysis
Lmtls Pro Subscribers receive Monthly Progress widgets for a data driven analysis
Smart notifications
Smart notifications responding to specific logs
Audio on demand
Including episodes of The Shift Show
Active dysfunctional beliefs & needs
Lmtls Pro Subscribers receive weekly summary with the most active limiting beliefs and dysfunctional needs
Features
Cognitive Diary CBT Self-Help
---
Track Active Limiters, Learn the Shift Language, Take Control
Being in treatment should be part of a larger lifestyle change. Lmtls™ allows you to pay attention to the details of your thought processes on a daily basis and provide useful data to your therapist. Be reminded to track your Mood, Thoughts, Emotions, Behaviours and Limiting Beliefs. Lmtls™ will keep you on track with your mental fitness or therapy program!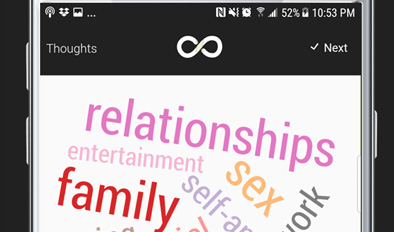 ---
Progress Widgets Supply Data Driven Results
Lmtls Pro users make the most of their data with progress widgets which frame tracked data so you and your therapist can best understand exactly where the problem areas are. Widgets include Days in a row, Mood Chart Comparison, Context Count, Mood Count, Average Daily Mood, Goal Setting, Often Together, Longest Best Day Streak, Longest Worst Day Streak
---
Our Therapy Partner
Taking the lead in technologically enhanced therapy, Shift Psychological puts a therapist in your pocket. A CBT based tracker that will scan your thoughts, emotions and behaviours and return the most likely related limiting beliefs. Turbo charge your therapeutic results with data driven progress and feedback.
FAQ
Frequently Asked Questions
---
Drop us an email if you couldn't find an answer to your question in the following list.
What is Lmtls?
It is a therapeutic companion. You can reliably track your states of consciousness and not worry about memory recall problems. 
Can lmtls be used if I am not in therapy?
Definitely, lmtls is an effective way to track your thoughts, emotions and behaviors while understanding how they interact with your CBT based limiters.
Is lmtls developed for a specific therapeutic discipline?
Yes. Lmtls is specifically patterned after the CBT based protocol of Shift Psychological.
Can lmtls act as a therapy replacement?
No. Lmtls is a way to track you states across time so you can accurately relay them to your therapist. If you are not in therapy then lmtls can be an effective mindfulness and teaching tool.
Can I cancel my subscription?
You can cancel your subscription at any time. Cancelling your plan comes into effect the following month or year depending on the subscription.
Can I get refund?
Unfortunately, not at this time! Please try our free plan for a while to make sure Lmtls is what you want or just subscribe to the monthly plan to test it out.
What if I want to change plans?
It's quick and easy to switch between our different pricing plans from your mobile device.
How long are your contracts?
You can upgrade, downgrade, or cancel your monthly account at any time with no further obligation.
Download now
Lmtls was originally developed in response to the needs of Shift Psychological and their clients. Used to track their state of mood/energy and consciousness over time. It allows them to record pertinent information securely and accurately and relay it to their therapist or personal reference in the pursuit of self-knowledge.
---
not yet rated